FUJITSU – Explanations of Fujitsu decipher operation
When you setting system password in operating system which used Fujitsu HDDs, the password will automatically set up to the password of HDDs synchronously. Accordingly, if users forget the password of system, they not only can't use operating system but also can't visit the data of this HDD. At that time, if you want to decipher in firmware level and visit data, you can clear password by a series of ways.
Fujitsu factory program deciphering operation needn't original password, this operation need to connect serial ports, follow is the setting of menu:
"Diagnose->clear HDD password"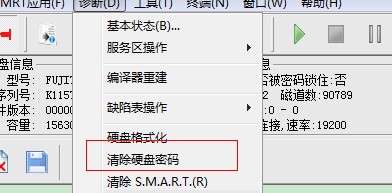 According shortcut button is located in main tools:

It is easy to execute deciphering operation. Connecting HDD power, data line and serial port line and then enter to program. Click the menu button of above view or tool bar button can boot deciphering operation.
It will point out connecting serial port when serial port is not connected, when baud rate is incorrect or HDD terminal environment damaged, it will point "Initialize serial port terminal environment failure!".
When log page appear article "Clear password: ..............................: success", deciphering is success.