Black Friday & Christmas Activity Notice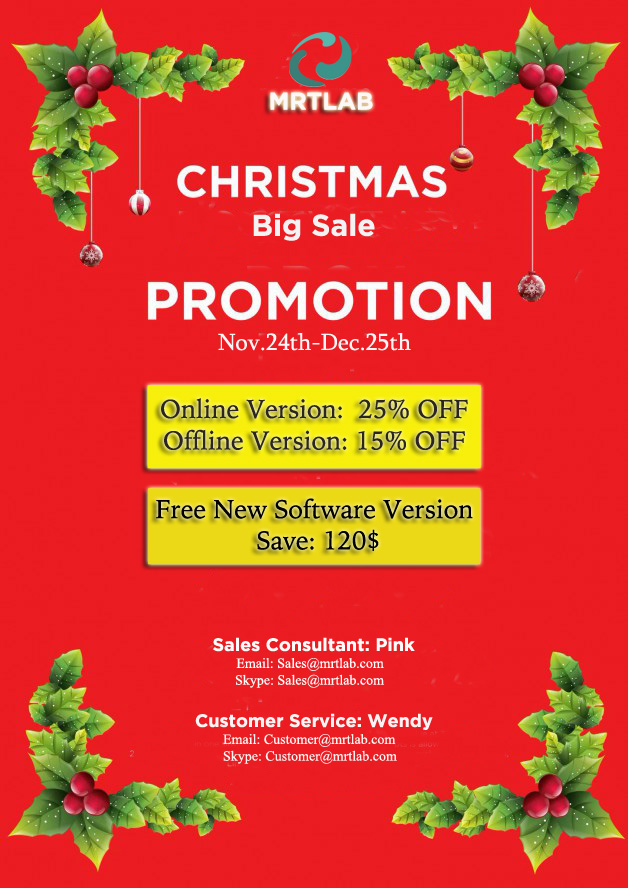 Dear users,
Thank you very much for your long-term support.
MRT data recovery products Black Friday & Christmas sale is coming!
Time: From November 24th, 2017 to December 25th, 2017 (Beijing time GMT +8, based on the arrival time of payment).Please note that after 00:00am on December 26th 2017, the price will restore the original prices.
Customers will enjoy 25% for online version(only for down payment) and 15% for offline version.
Version
Original price(USD)
Activity price (USD)
MRT Express
Online Full version
360
270
Online Repair version
360
270
Offline Full version
3360
2856
Offline Repair version
1900
1615
MRT Ultra
Online Full version
380
285
Online Repair version
380
285
Offline Full version
3980
3383
Offline Repair version
2340
1989
Notice: The activity price of online version is just for down payment.
Furthermore, new card customers can use the newest software version for free
Contact us for more information:
Sales Consultant – Pink
Email: sales@mrtlab.com
Skype sales@mrtlab.com
Customer Service – Wendy
Email customer@mrtlab.com
Skype customer@mrtlab.com