Pilot interpretation of the MRT 2.1.4.x version
I believe that everyone is eager to get a glimpse of the upcoming MRT release. This article will review the major upgrades of MRT for a pilot interpretation with screenshots of CN alpha version.

This update is 2.1.4.x, please wait for the official name of the version to be released.

The new version has undergone functional upgrade planning, software function development, Web upgrade, interface icon design optimization, function reduction and optimization, and functional testing. In order to provide users the best experience, our internal requirements are " Pursuing the ultimate". While the new version is available to you, the technical support team will also provide instructional videos with major new features. In order to familiarize our users with this new version of great importance and innovation, we will update the user manual and tutorial materials for new users.

This upgrade is divided into two major sections: Adjustment and optimization of the global interactive experience, and Major upgrades in functionality.

Part 1 Adjustment and optimization of the global interactive experience
This part of the upgrade work began at last year, the main direction is the optimization of the website experience, the software's global visual effects and experience optimization, including the performance and stability optimization of the front-end and background of the website, icon unification, menu function layout optimization, streamlining Interact with optimization function, enhanced function interface logic, unified function description, and underlying function optimization such as serial port experience upgrade.

In short, have a view of the icons elaborately selected in terms of software visual effect: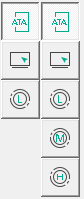 Now let's take a look at the actual interface layout: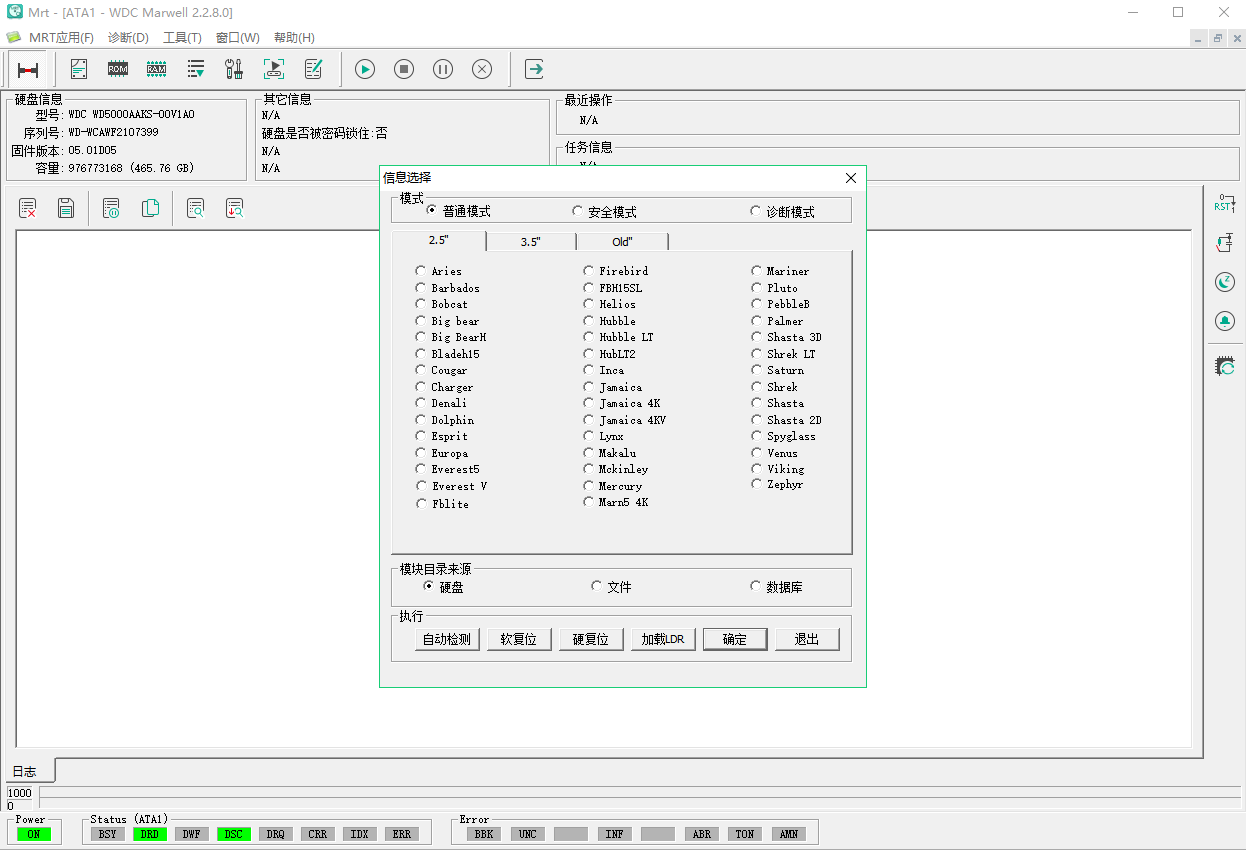 In addition to the static icons shown above, we have classified the icons and designed three status icons that can be used to render dynamic icon changes when the mouse is slicking over:

1 The gray for being disabled

2 Normal state

3 Highlight state while being ativatied
Is it enough to just redraw the icon? Not enough at all, just redrawing an icon is likely to be treated only as a simple work.
In order to enhance the interaction logic of the interface and greatly improve the user experience, we re-plan all functions, including some window display, and functional logic classification. Here we take a look at several major changes: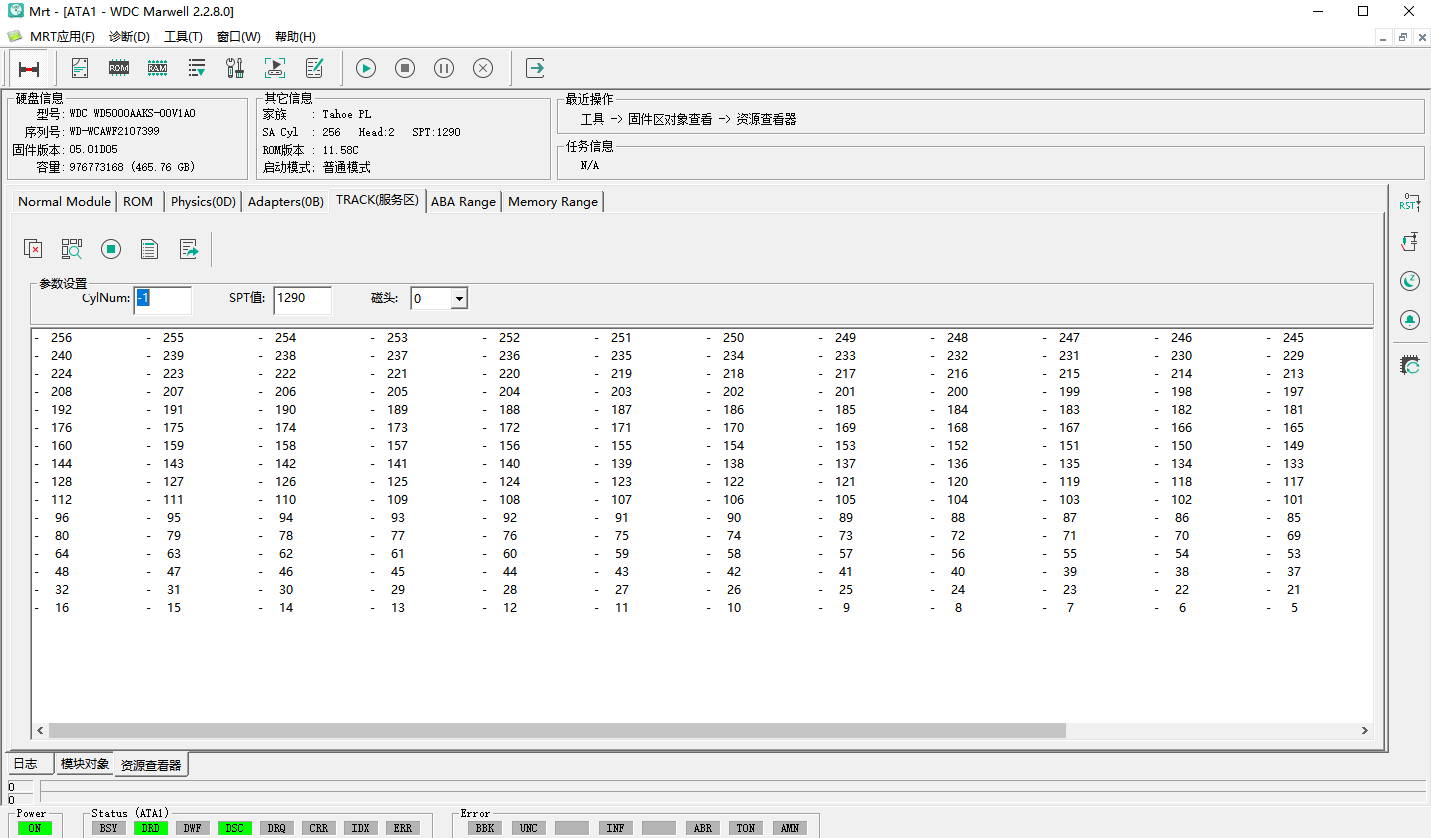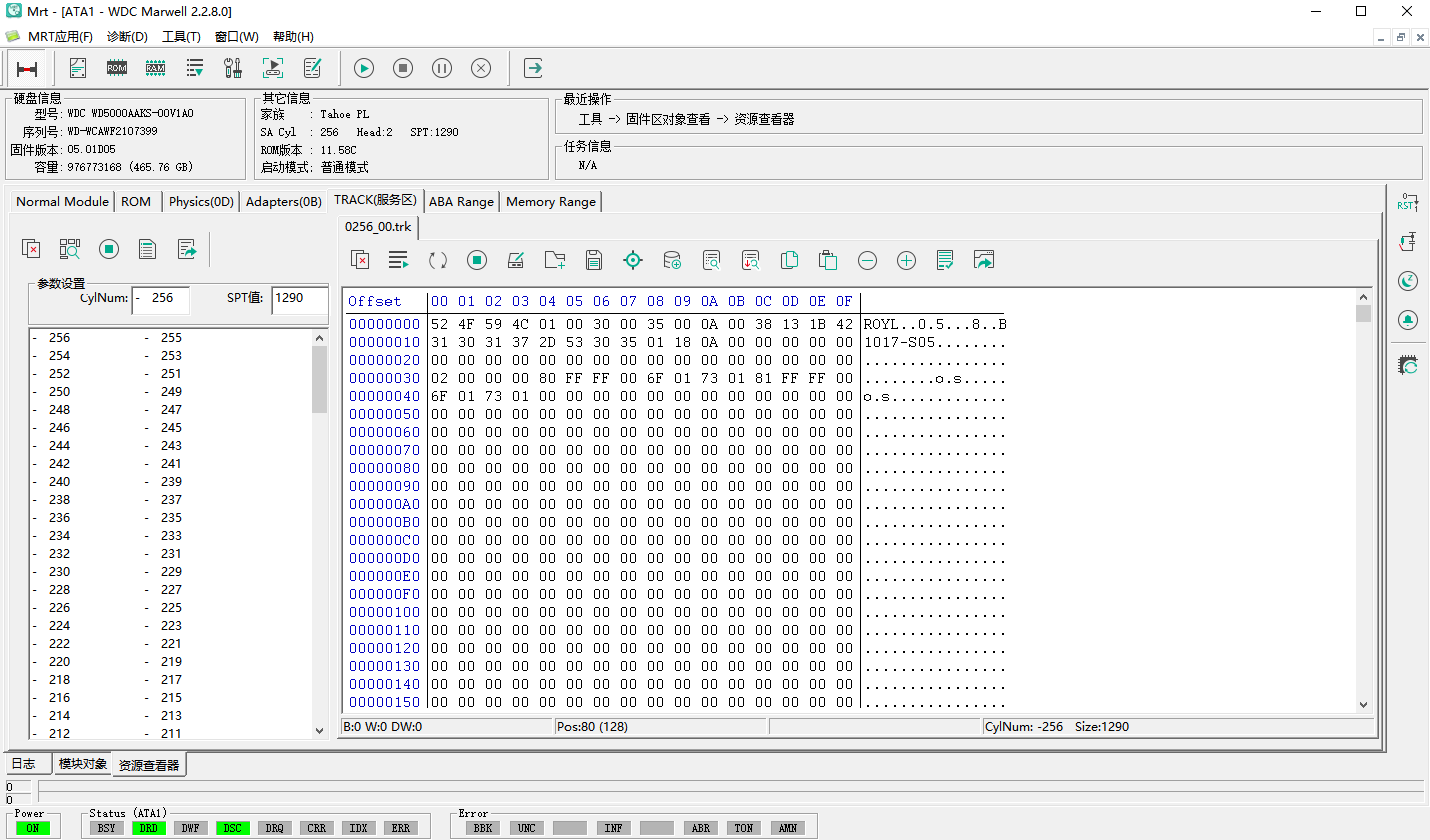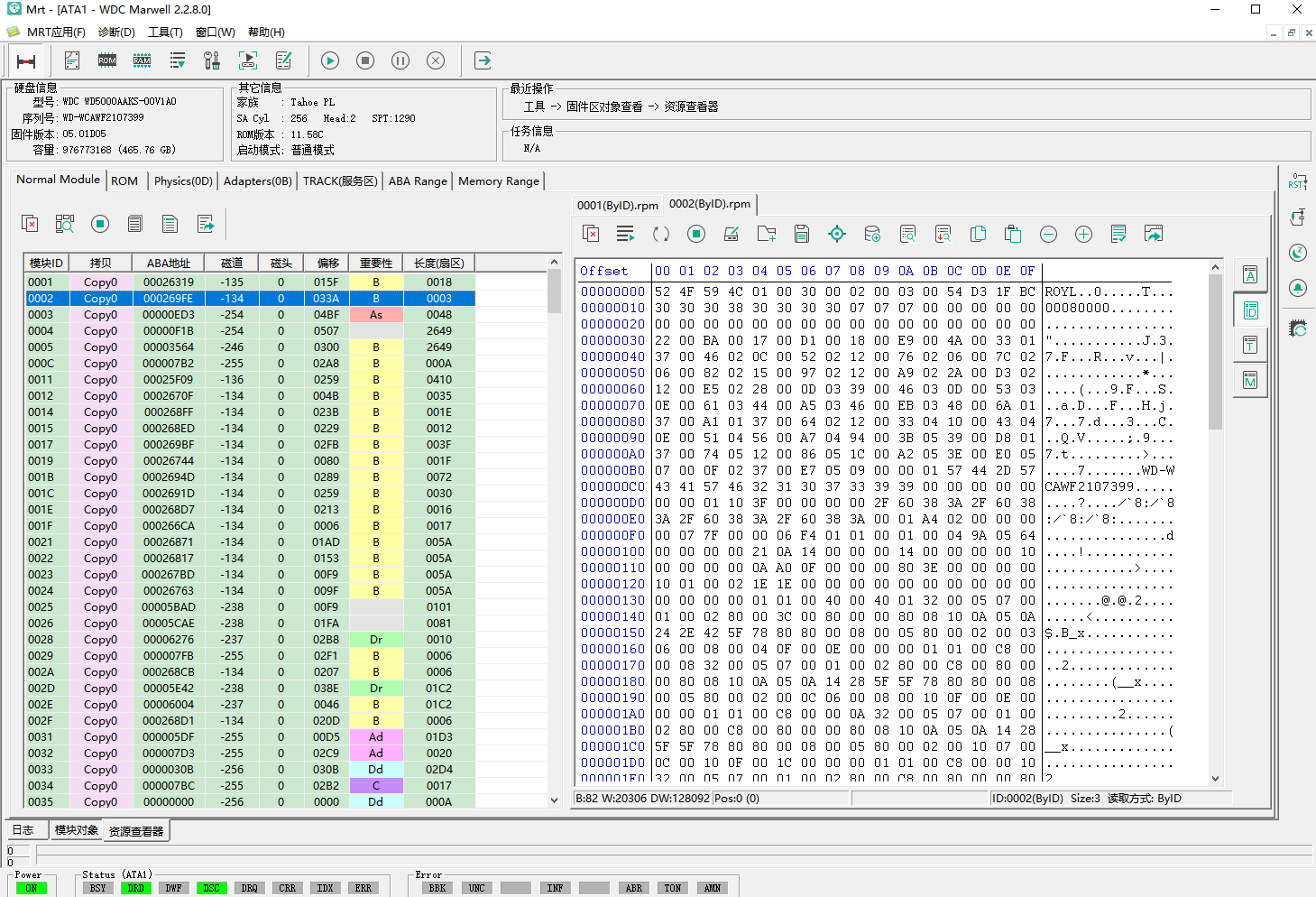 By reference of the pictures shown above, we observed that Resource Viewer displays lists and data by a synchronized paging mode with scalability in which shortcuts allocated for 4 access modes are respectively distributed to the far right of the window, being segregated from general tool bar so as to avoid user misoperation.
Why do we want to redesign? For module operations of Western Digital,there are 4 access modes available which under some circumstances may present different data for the same module. Thus, frequent data comparison between different access mode is necessary for our repairing task, which inspires us to adopt a synchronized multi-task window so that users will enjoy a greater convenience when making module data analysis between different access mode.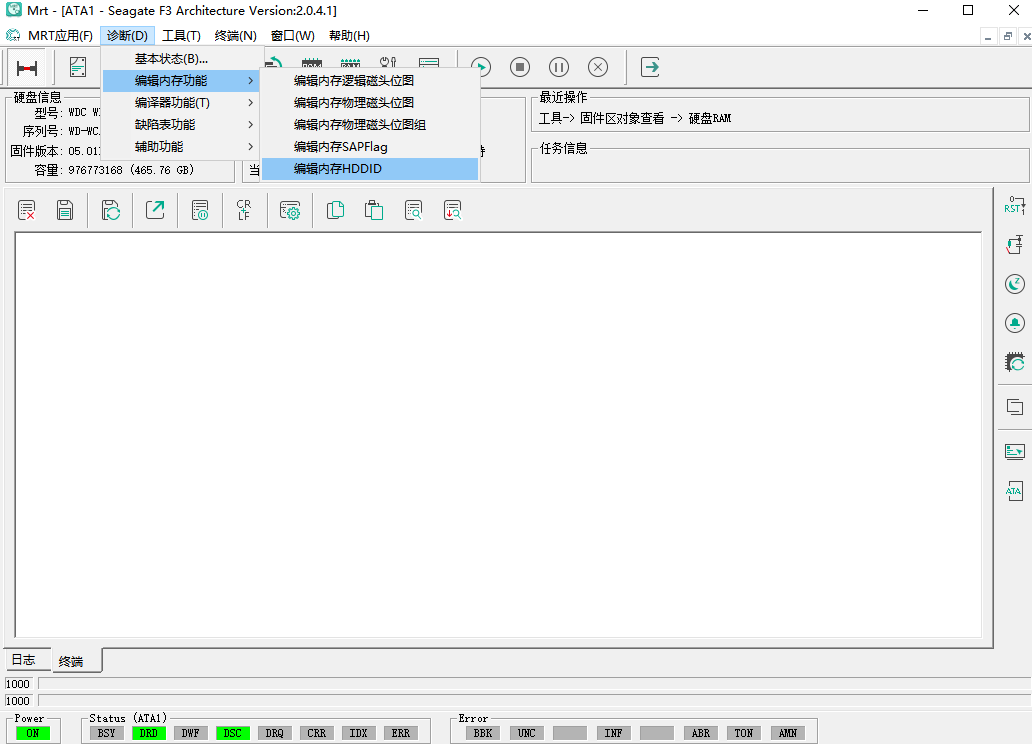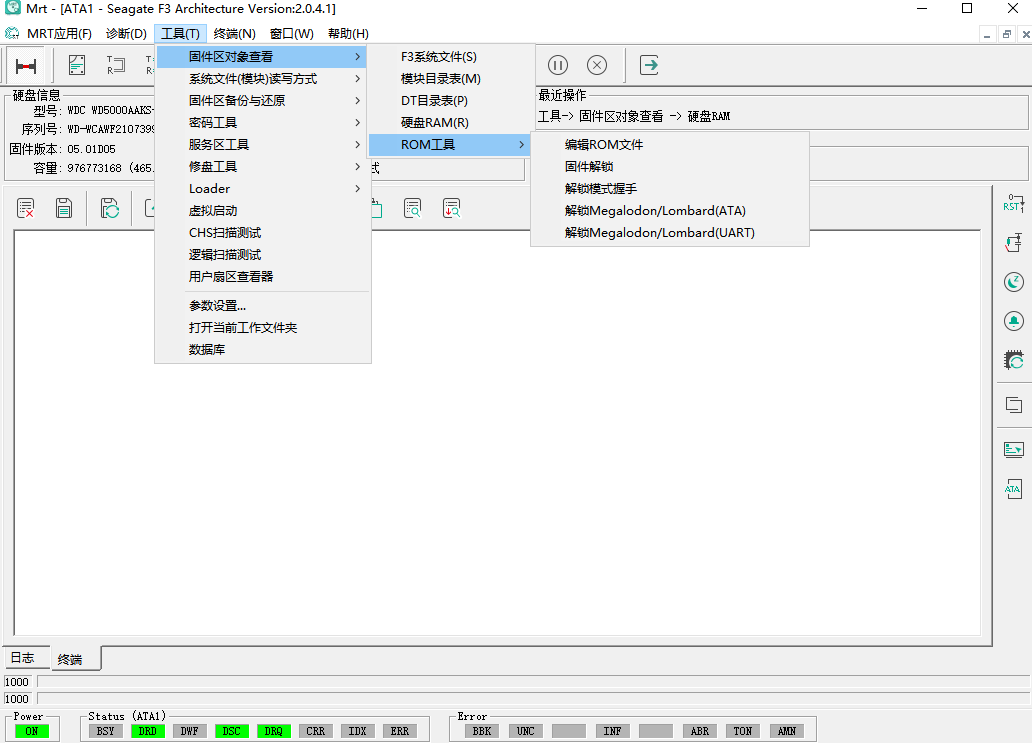 A rearranged and simplified menu. We removed out-dated functions and re-classified all functions according to their applications so as to make menu description more accurate and professional, which would to some degree help users locate target function more easily and quickly.
Besides, we also added automatically sorting of the Western Digital and Seagate modules, various sort fields of the Western Digital module, redesigned the Western Digital and Samsung family panels; added corresponding descriptions of Seagate system files. The Samsung module is color-coded according to the importance level; the storage directory of Western Digital is simplified and replanned.
For the first part of the upgrade, we will release another article to illustrate some of our internal ideas!
Part 2 Major Function Upgrade
All stuff in MRT have spent almost 8 months to adjust and optimize the functions, and Over 100 functions have been upgraded and optimized this time. Recently we will release a new version of software. In this article, we will display some key function upgrades.
2.1.2.x version contains four parts of function upgrade: HDD、SSD、DE and added VR module
1. HDD Section
The upgrade can be divided into two parts: regular function upgrade and optimization, key function upgrade.
WD UTILITY:
Added 8000XX series in family ID---Charger, Plamer and Spyglass; Added editing headmap and RAM head bitmap in HDD with PCB ver.800066; Enhanced the function of search SA and save, and added new functions to handle the defect and reconstruct module 01; To deal with slow start, it added some options to handle the problem of slow response; Added auto fast scanning of red block repair after which program will detect the reason automatically and repair fw; A brand new diagnosis mode will replace the old one and adopt new technology to support more fw and can diagnose the faults better.
Seagate Utility:
l Data Recovery Utility: added edit hard disk ID in RAM which controls hard disk characteristics in real time; added new family AF and support bootcode mode to directly read and write ROM; support EB01 firmware unlock and virtual boot; support 0x63 and 0x70 family terminal unlock; optimized password unlock Function; Significant function: LM035, LM007, LM048 minimization system, virtual start new LED firmware, which help solve various LED problems during hard disk bootup.
l Refurbishment Utility: added SMART information modification (including hard disk running time), applicable for all F3 series;Enabled defects to be added into P-list directly, available for 8 formats(speed up around 5 to 10 times; added head shield of HDD with 6 heads belonging to 0x59 family.
Samsung Utility
l Enhance the compatibility and stability of all functions to solve the incompatibility of some functions for the old HDD and some new HDD; greatly enhanced the"write to Burn resource" function, both log prompt and operation procedure have been greatly optimized and improved ;Enhanced the family automatic detection; Added 3 access modes for obtaining modules in "basic information view" ; Enhanced head test; added structure for service area
.2.SSD section
This upgrade is divided into three major sections: leading brands and master controllers; general function upgrade; data recovery function.
l Brand supported: Samsung, SanDisk, AMD, AData, Silicon Power, RevuAhnTech, Lexar, PNY, Crucial, Plextor, Inter 510, Corsair, OCZ
l Master controller supported: Marvell, Silicon Motion, Phison
There are about 10 brands of hard drives using the master controllers of Silicon Motion (SM) in the world. According to statistics, these brands have about 15 series or even more SSDs. In this upgrade, MRT supports 14 of these series, approximately 93% of the market's adoption of SM Master SSD.
l General function upgrade: chip information viewing function, basic information viewing function of SSD, password information viewing function, SSD status detection function, CP search and read function, etc.
l Significant function upgrade: support loading Loader; support for creating virtual compiler.
3. DE Section
The new version of DE has added HDD factory programs and SSD factory programs. At the same time, it has greatly improved the data recovery function and added support for two file systems UFS and VMFS. It Also added a unique new feature, file diagnostic mode.
In the file diagnostic mode, the user can manually edit the MFT and partition table and edit the information of the file node. If the user is proficient in file system , it would be a great help for user to recover the damaged file system data.
The user can switch between the diagnostic mode and the normal mode by clicking the "File Browse Mode" button in the tool bar. Under normal circumstances, the default is normal mode.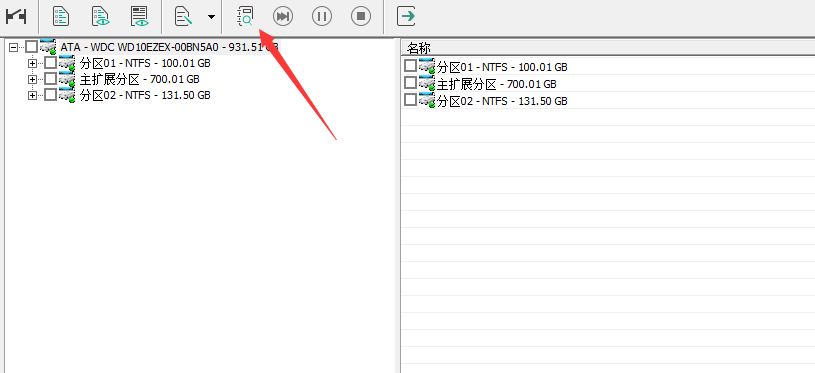 1 diagnostic mode function button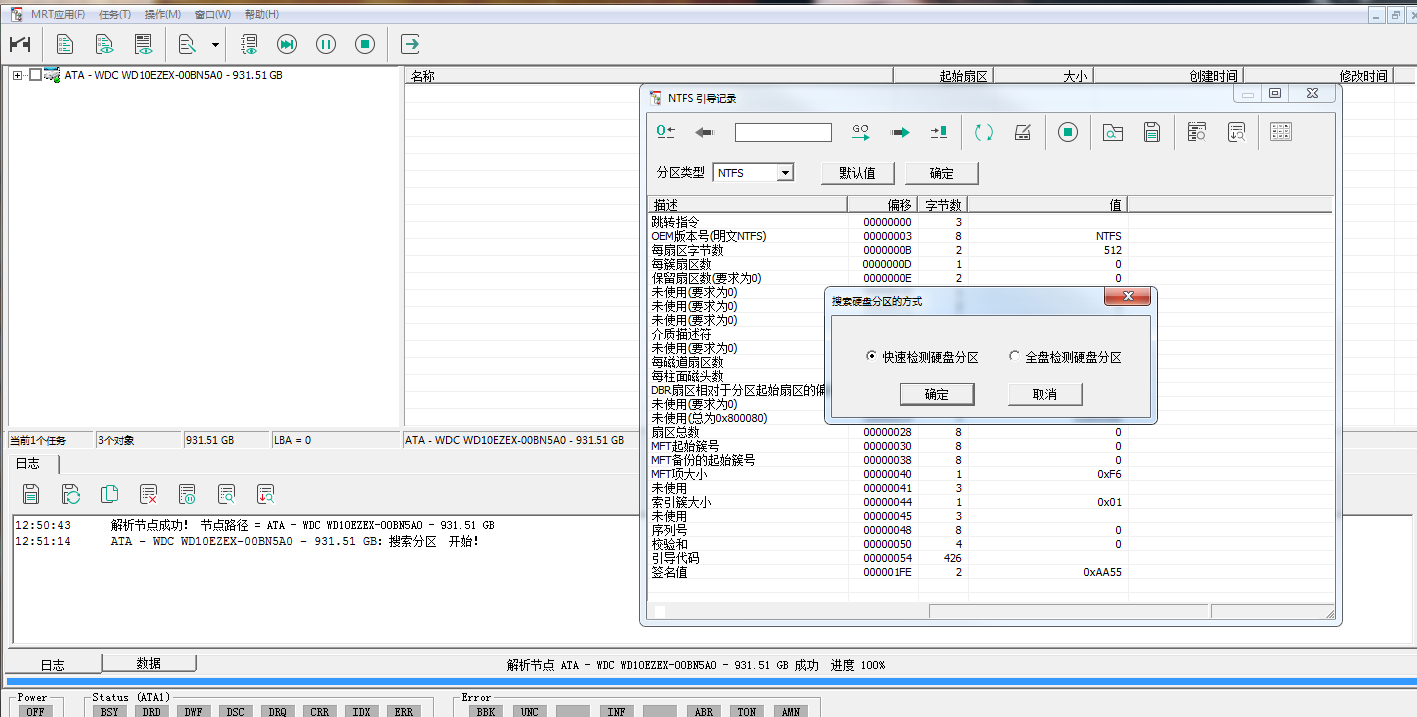 2 diagnostic mode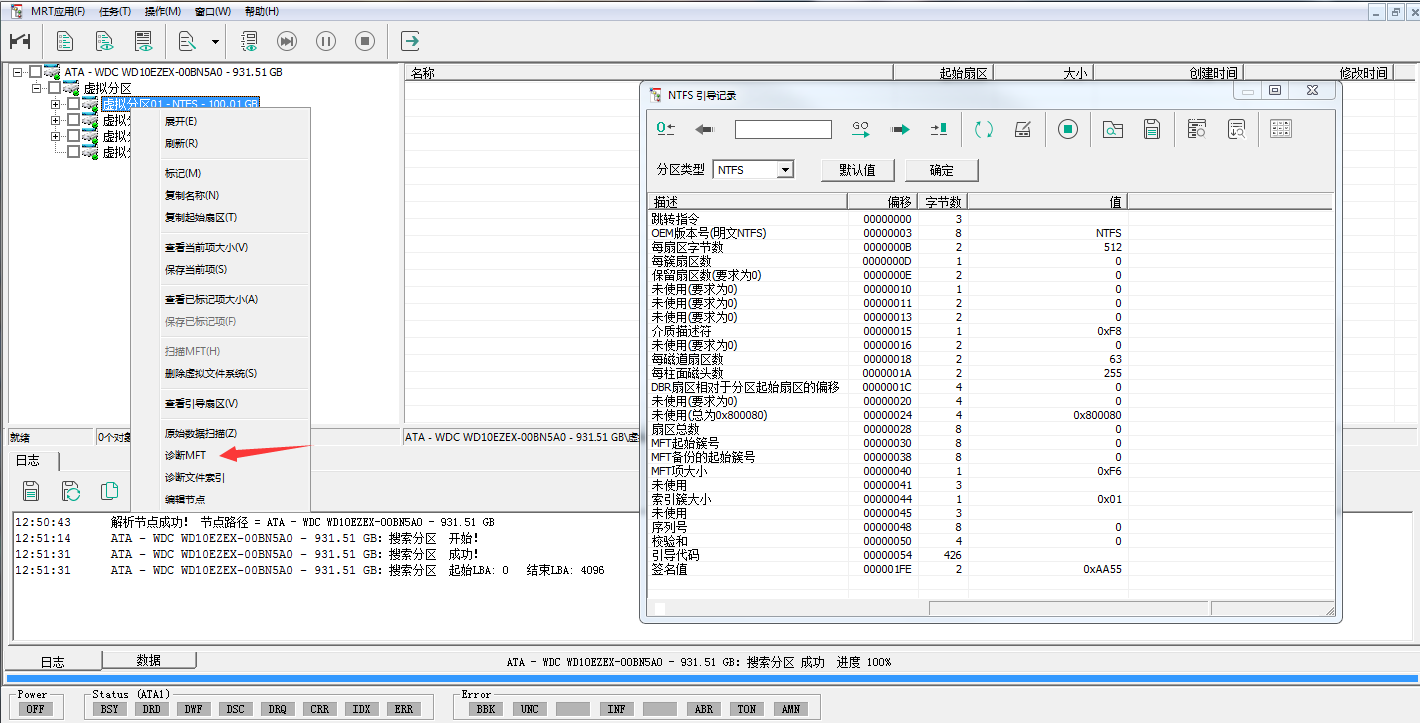 3 diagnostic MFT function menu
Scan MFT Table could help users expand the remaining data files in the condition that the MFT table has been damaged.
Added MFT diagnostic function, the function is in the right-click menu. This feature is able to diagnose sector size of the starting LBA, MFT of the file system's MFT. After the user obtains the information, the user can manually edit the MFT information to achieve the purpose of expanding the file system of the partition.
Added a function to diagnose the Index file, with the diagnosis of which users can obtain detailed parameters such as the initial LBA of a file index and sector size.
Added Data Stream Scan for MFT and Index in RAW Scan function,which helps user manually scan and save index and MFT table.
4.VR Utility
We have added a VR (Video Surveillance Data Recovery) utility in DE. Users can use this utility to process Hikvision video, which includes browsing of video and data clone. The scanning of data can effectively handle Hikvision surveillance video files and hard disks with bad sector. In subsequent upgrades, the VR Utility will be regularly upgraded.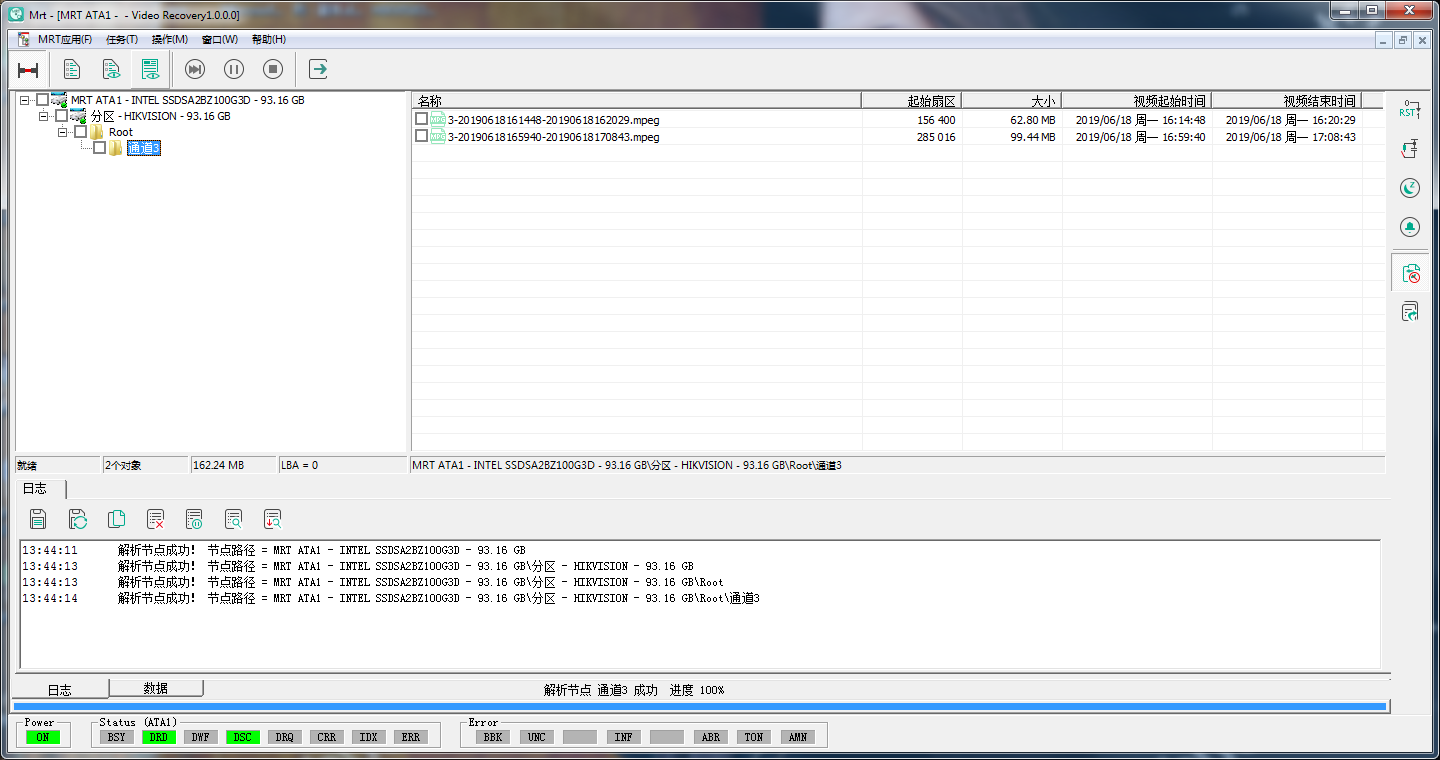 1 VR function interface
VR utility is a derivative from DE. Therefore, it shares some general functions with those of DE such as Data Clone, Sector Viewer, etc. This utility supports IMG and ATA devices.
The interface on the left is the structure of the file system, and that on the right is the video information of the recorder channel. Operation for VR Utility is quite familiar with that of DE
The above is the pilot interpretation of the new version of MRT.