Summary of FAT file system 2
四、 分区引导扇区
Fourth, the district cited guide sector
Often called the boot sector, Microsoft called sector 0 (0 th Sector), we know by the previous description, called sector 0 is not correct, so it is easy to misunderstand the most disk in front of a sector, sector 0 just call it the FAT sector indicates that it is a reference point only.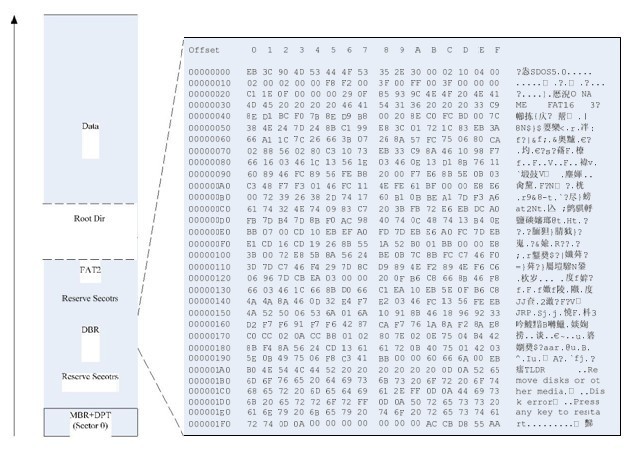 Figure 2:DBR
The sector has an important data structure that contains our concerns BPB (BIOS Parameter Block). The following table of contents translated from Microsoft's "Microsoft Extensible Firmware Initiative FAT32 File System Specification-version1.03", which contains a description of each of BPB.
NOTE : In the following description, the name to BPB_ beginning belongs BPB section to BS at the beginning of the start part of the movable sector ( Boot Sector ) section actually does not belong to the BPB .
offset

Length

Description

(byte) (byte)

BS_jmpBoot

0x00

3

Jump instruction, pointing to the boot code

BS_OEMName

0x03

8

The recommended value "MSWIN4.1".

Some vendors might FAT drive

Detect this, so set "MSWIN4.1" You can try to avoid compatibility

Problems

BPB_BytsPerSec

0x0b

2

The number of bytes per sector, only the following values: 512, 1024,

2048 or 4096.

Set 512 will get the best compatibility, the current

There are a lot of FAT code is mandatory for the number of bytes per sector 512,

Instead of the actual detection value.

But Microsoft's operating system can be a good support

BPB_SecPerClus

0x0d

1

1024, 2048 or 4096

Number of sectors per cluster, its value must be integer power of 2 (the integer must

> = 0), but also to ensure that the number of bytes per cluster can not exceed 32K, it
1024 * 32 bytes

BPB_RsvdSecCnt

0x0e

2

The number of reserved sectors of this field can not be 0, FAT12/FAT16 must

1, a typical value of FAT32 is taken as 32, Microsoft's system to support any non-zero

Value

BPB_BumFATs

0x10

1

Copies FAT partition tables, FAT formats are any suggestions for 2

BPB_RootEntCnt

0x11

2

For FAT12 and FAT16 this domain number (each directory that contains the root directory

Term length is 32bytes), for FAT32, this must be 0.

To

In FAT12 and FAT16, this number must be multiplied by 32 to

BPB_BytesPerSec even multiple of, in order to achieve better compatibility,

FAT12 and FAT16 should be a value of 512

BPB_ToSec16

0x13

2

Early versions of 16bit total sector, where the total number of sectors, including FAT volumes

All sectors on the four basic partitions, this field can be 0, if this field is 0,

So BPB_ToSec32 must be 0 for FAT32, this field will be 0.

For FAT12/FAT16, fill in the total number of sectors in this field, if the value is less than

0x10000 words, BPB_ToSec32 must be 0

BPB_Media

0x15

1

For "fixed" (non-removable) storage media, 0xF8 standard

Values ​​for the removable storage medium, is frequently used value 0xF0, this

The value domain can legally take 0xF0, 0xF8, 0xF9, 0xFA, 0xFC,

0xFD, 0xFE, 0xFF.

Also to be reminded that, regardless of the domain written

What values ​​must also be in FAT [0] is the low byte written to the same

Value, which is used as the early MSDOS 1.x byte to determine what is

Kinds of storage media

BPB_FATSz16

0x16

2

FAT12/FAT16 a number of sectors occupied by the FAT table for FAT32

For this field must be 0, specified in the FAT table in BPB_FATZ32

Size

BPB_SecPerTrk

0x18

2

The number of sectors per track for BIOS interrupt 0x13, this field only to have

"Special Shapes" (by the cylinder head and each track is divided into a number of) storage

Media effectively, and must be able to invoke the BIOS interrupt 0x13 to get this

Value

BPB_NumHeads

0x1A

2

Heads, 0x13 for BIOS interrupts, similar to the above BPB_

SecPerTrk, only for special media to be effective, this field contains a to

Is a small value, for example, 1,4 M This field is two floppy

BPB_HidSec

0x1C

4

Previously hidden FAT partition number of sectors, we must make the call BIOS

The 0x13 interrupt can get this value, for those who do not partition storage

Media, this field must be 0, of what value is determined by the specific use of the operating system

BPB_ToSec32

0x20

4

The volume of the total number of sectors (32bit), where the total number of sectors, including FAT volumes

Four basic points of all sectors, this field can be 0, if this field is 0,

BPB_ToSec16 must be non-zero for FAT32, this field must be non-zero.

For FAT12/FAT16 If the total number of sectors is greater than or equal to 0x10000

, Then this field is the total number of sectors, while BPB_ToSec16 is 0.